Cycling in Cracow
Cracow is believed to be one of the most livable cities in Poland. It is well known tourist destination, university centre and one of the major cities in Poland (700,000+ inhabitants). It has a good InterCity train service with Warsaw (2,5 hours) and most of other important destinations in Poland. There is a direct InterCity train from Hamburg and Berlin in Germany, usually with plenty of racks for bicycles in one of the carriages. Local airport offers direct flights to cities in Europe and North America. There seems to be quite large ex-pat community, English is widely spoken, there is a vast choice of cinemas, not to mention pubs - Cracow night life is well known in Poland and it is becoming a weekend destination for other cities, notably Warsaw.

If you are planning to commute by bicycle in Cracow, be careful where to rent a flat. A number of districts are hardly accessible by bike, and what seems to be a bearable bicycle access in summer or even autumn, will be likely unpassable in winter. It might be useful for you to read the Practicalities part of the English language Cities for Bicycles Poland website.
Generally, the central part of Cracow (Old Town, the Jewish district of Kazimierz, old Podgórze on the right river bank) and the western parts (Krowodrza) are OK to live a cycling life. Central districts east and north of the railway station are problematic despite they are very close to the centre. When the Rondo Mogilskie (Mogilskie Roundabout) east of the Old Town is refurbished and the thoroughfares near the railway station are completed (probably 2005 or 2006), this should dramatically improve cycling access there as they will include superb cycling facilities. Nowa Huta is problematic, too - with except of some southern districts that can use the Wisła River bank cycle route. Construction of a segregated cycling facility in Jana Pawła II Avenue along with the Mogilskie Roundabout refurbishment should be a major improvement. Northern Nowa Huta will have to wait until 2010 when a new tramway line is completed: it will link the railway station, Rakowicka street, Prądnik Czerwony and Mistrzejowice estates and a cycleway will be provided along the tracks, crossing major structural obstacles on the way (currently this is too expensive to build just a cycleway). Southern districts (Podgórze: Bieżanów, Prokocim and notably Kurdwanów) are really bad for cyclists. A cycle route along Wielicka street is planned but it will not solve all problems with cycling access there. Major infrastructural refurbishments in the Zabłocie area will probably make cycling in this direction more viable but remain nebulous.
The final core system of main cycleways in Cracow is shown in the picture below. The main cycleways will be accompanied by a network of auxilliary routes and 30 km/h zones, with mixed bicycle and car traffic. Click to enlarge.
The existing cycling facilities are shown in the picture below as blue lines. Red lines are cycling routes to be built soon, under EU financing. The number of cycling facilites than are going to be built by 2006 may actually be higher. Judging from the quality of technical design of 10 new cycleways that are ready as of January, 2004 and the technical standards they meet, they will be really facilitatig cycling in Cracow. Click to enlarge.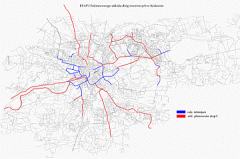 Currently, there are a few usable cycle routes in Cracow:
In the dowtown area

, most streets near the Market Square are cycling streets, open to cyclists in both directions. However, some cars are allowed, too (one way only) and in some streets cycling is one way only. Outside the Old Town, most streets have speed limits up to 30 km/h and mostly are bicycle - friendly. You have to be careful in case of the tram tracks - they can be very treacherous.

There is a good access to the

Podwawelskie estate and Dębniki

part of the Podgórze. Both are located on the right river bank opposite Old Town and Krowodrza districts and are provided with good cycling facilities. In fact you can cycle almost all way on a segregated facility from the Market Square to a number of places along Monte Cassino, Kapelanka and Zielna streets as well as along the river banks. This is probably the most cycle - friendly area in Cracow except the downtown area. Two bridges have cycling facilities (Most Grunwaldzki and the new Most Zwierzyniecki) and the third one has footpaths wide enough to accomodate cyclists, indeed they are heavily used by cyclists.


A cycle route along Wisła river

is a perfect way to get to the Old City and Stare Podgórze from many places, notably Dąbie estates and southern parts of Nowa Huta (on parts of the route into Nowa Huta there are no cycleways but cycling on empty pavements is possible).

Kopernika street

east of Old Town with a contra flow lane leads you to the Rondo Mogilskie. The Mogilskie Roundabout is one of the most dangerous places in Cracow but Aleja Powstańców Warszawy that leads to the south has a cyclewaythat can lead you to the Wisła river and its cycling route as well as the new Kotlarski Bridge with cycling facilities. By 2006, Mogilskie Roundabout will be totally refurbished, with the most complex cycleway system in Poland. Cyclists will be able to get safely to the other sides of the junction and four or five cycleways will meet here. It will be possible to cycle to Nowa Huta to the east (well: with some problems, as it is impossible to have the cycleway in the Mogilska street and the parallel street ends before cyclists can reach the existing facility) and the whole quarter north-east of the roundabout.

Błonia field

cycleways just west of the city centre. There are cyclewas around the Błonia as well as along the Rudawa river so that you can reach the Wisła river bank cycleway (with a gap, to be frank ;-). West of the Błonia, Rudawa River has an unmarked trail on the dyke that leads to the west out of Cracow (at some point, however, you must turn to the macadam road as the water intake facility in Rudawa River is an obstacle and continue in mixed traffic).

Other segregated facilities are either very low quality or are just local.

An interesting mixed traffic route leads to the north-west part of Cracow (Azory estates). This is the traffic - calmed Krowoderska street (30 km/h zone), a small roundabout in Świętokrzyska street, Mazowiecka street with speed humps in front of a primary school and Racławicka street that reaches a pedestrian and cycling tunnel and railway crossing. This is a route pretty much used by cyclists, although it has never been planned as a cycle route. There is pressure to have speed humps in Krowoderska street, as the 30 km/h speed limit is not observed by drivers and there is one dangerous junction with poor visibility.
---